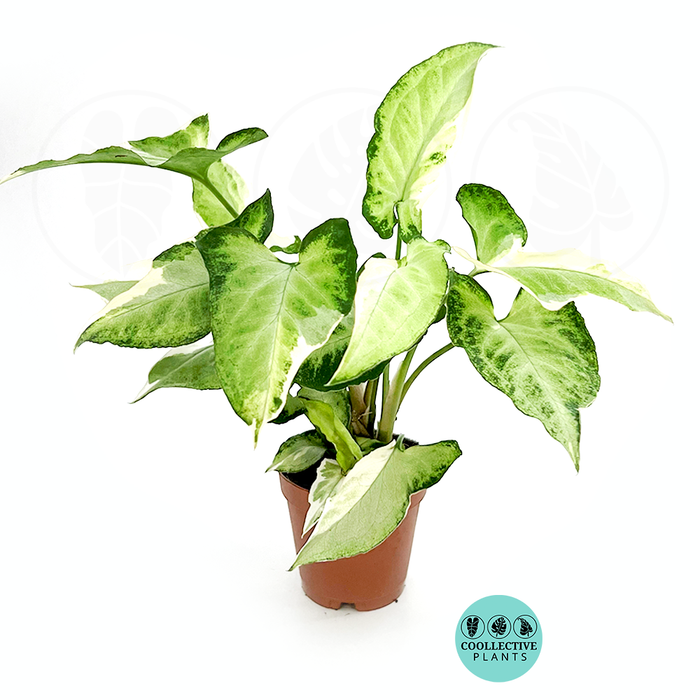 Syngonium "Starlite" has the typical arrowhead shaped leaves that Syngoniums are known for but these are smaller than most varieties and and have a playful frill on the pink leaf edge. Emerging from green stems, the leaves have vibrant splashy white and green leaves, each leaf is delicate and beautiful.
Water: Allow the surface of the soil to dry up between watering. Underwatering will cause its leaves to droop. Overwatering will cause its leaves to turn yellow; skip a week of watering.
Fertiliser: Feed it with liquid fertilizer at half strength once a month.
Plant Size: (vary in sizes)
#### WE DO NOT ACCEPT CANCELLATION ONCE ORDER IS PLACED###
#### ATTENTION BUYER ###
Please keep in mind all plants look different than other, it can be color, shapes, size, variegation color or heights. These are live perishable plants and they do have certain shelve life depending on its variety.
### FOR CLAIMS ###
We are not responsible for any plant sever damaged during the postage handling, please inspect your purchase upon arrival and reply us within 48 hours of receiving the plant. We require Pictures and description of the issue or claims to be made.
### INTERNATIONAL DISCLAIMER ###:
We are more than happy to ship internationally however there will be a risk involve and we will not reliable for any damage plants or setback on these plants.